Friday, 19 September 2014
Bleep Labs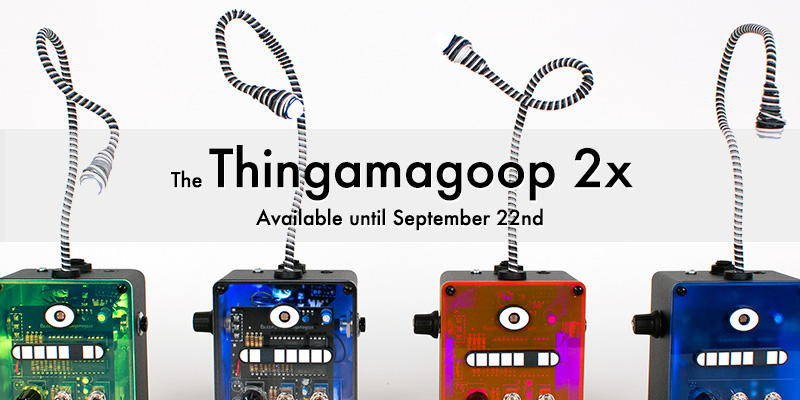 We are happy to announce that we are working with Bleep Labs. While this is not our usual shtick of announcing great guitar pedals it is some next level noise making machines for us to geek out on. Bleep Labs has been hand building amazing synth devices for years under the blazing sun of Austin, TX. 
If you are a guitar player and are wondering if these noisemakers work with a guitar like pedals do, well they don't. Their products are the instrument, which can in fact be plugged into pedals , making crazy sounds crazier. We like being innovative while using innovative products! 
The Bleep Labs line up is amazing but initially we are featuring the Thingamagoop 2x. Bleeps Labs has been making different versions of this little noise robot for 5 years and will soon be retiring it. This is your last chance to get your hands on this super fun, super creative hand held analog/digital synth controlled with light! 
Four different color options are available!
Check out this video for better clarity on what the Thingamagoop can do! 
The Thingamagoop 2 is a handmade, analog + digital synthesizer you control with light.
It features an analog voice that is controlled via photocell. This means that the more light, the higher the pitch.
This allows you to use any changing light source, such as the LEDacle coming out of the top of the Thingamagoop's head, to be used as a modulator.
An internal LFO and digital, Arduino controlled modulator add even more aural ridiculousness.
Kit
The kit is great for beginners with its detailed instructions and photos of each step. Advanced users can take advantage of the Arduino integration, control voltage in and out, or just bend it like crazy!
Arduino
The Thingamagoop 2 uses Arduino to control the analog VCO as well as the LEDacle. You don't need an Arduino board to use the Thingamagoop 2, only if you want to reprogram it to make your own ridiculous sounds! More info here.
CV
The Thingamagoop has a 1/8" jack on the top for control voltage out.
The Line Up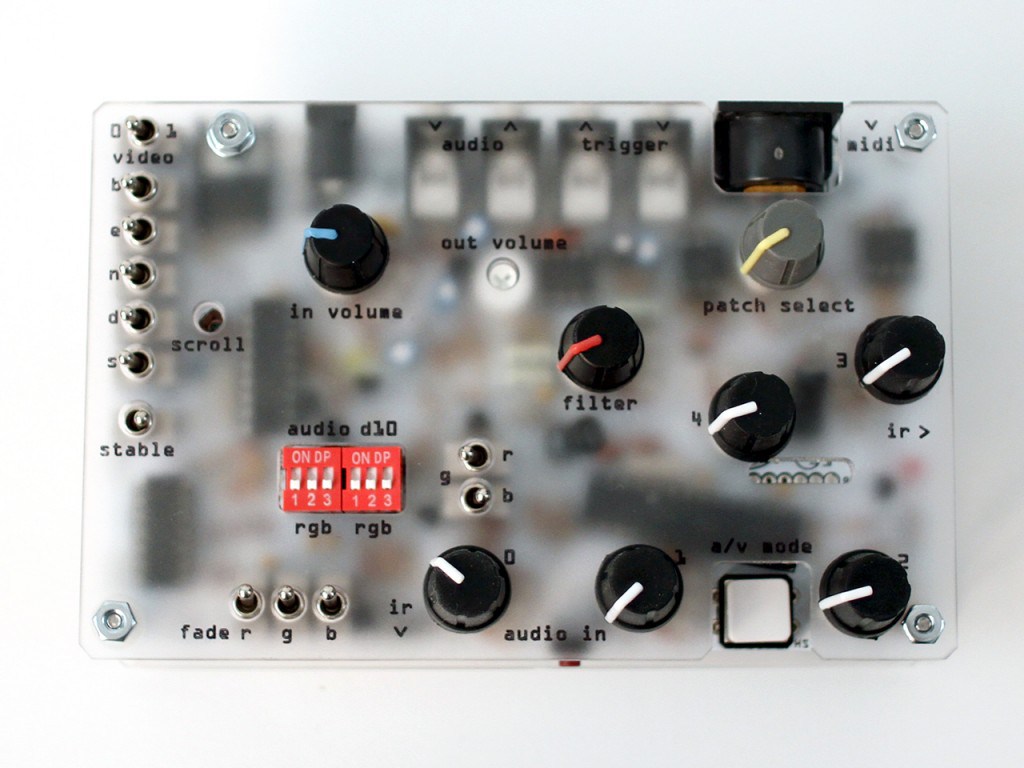 Posted on 09/19/2014 5:05 PM by Elevation Boutiques

Monday, 15 September 2014
Spaceman Aphelion Reissue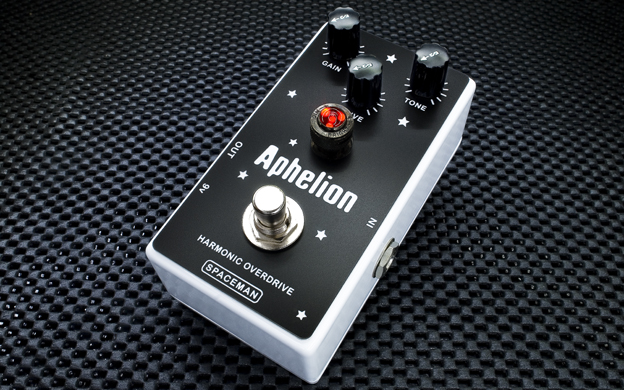 After nearly 4 years in obscurity, Spaceman Effects is bringing back the Aphelion Harmonic Overdrive for one final run, in continued celebration of our 5th anniversary year.  One of the key vintage parts used on the original Aphelion is nearly impossible to find, but we were able to source an alternative part in limited quantity to complete this run.  We feel that it captures the same dynamic response and tonal characteristics of the original.  This will be the absolute final production run of this pedal.
      Spaceman will be offering these reissues in two waves, two weeks apart.  The first wave includes the Copper and White editions.  These pedals both feature a 1959 aerospace dimmable indicator and custom engraved knobs, the first and only Aphelion's to do so.  These are available for pre-order now and will ship in 3-4 weeks.  The second wave will include the Purple, Black and Turquoise editions and more information will be released on these in two weeks, on 9/27.  All editions will feature special anniversary packaging and brass anniversary serial plate.
You do not want to miss out on owning this pedal!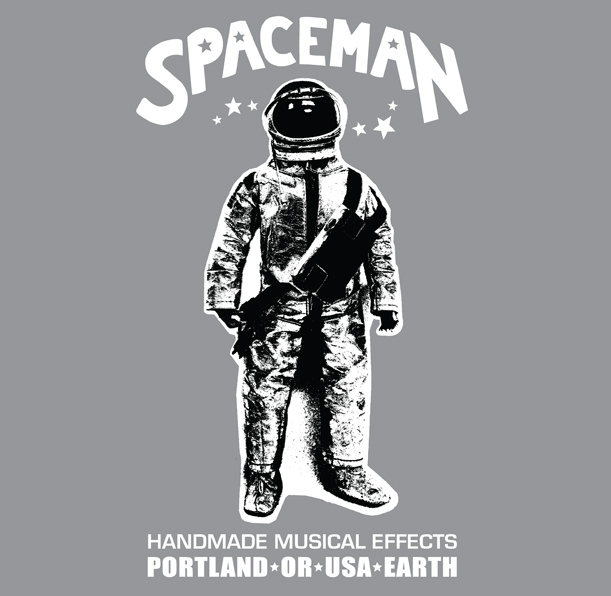 Posted on 09/15/2014 3:01 PM by Elevation Boutiques

Wednesday, 10 September 2014
TSVG Pedals


I had the pleasure of meeting the guys from TSVG Pedals at Summer NAMM this year and apart from being suer cool guys, they make fantastic pedals. I wanted to rep their brand just based on how cool they were as people but as it turns out this is a business and the product has to be on par in order to sell it. They sent over a couple pedals to try and I was more than impressed. I tried The Angry Jeff and The Dying Batt first and I could not stop playing them. I keep thinking that nothing new can really come out can it? Everyone has done everything by now haven't they? Sometimes the best innovation comes with the smallest tweaks. TSVG is just different enough to stand out in a big way, making you realize you need these pedals on your board. TSVG pedals are so warm and friendly but they will rip your face off at the same time. The wolf in sheep's clothing. TSVG will invite you in for dinner but you don't realize they are having YOU for dinner.
We are happy to announce we now rep TSVG!
If you don't know about TSVG Pedals you need to figure that out immeadiately and get them on your board.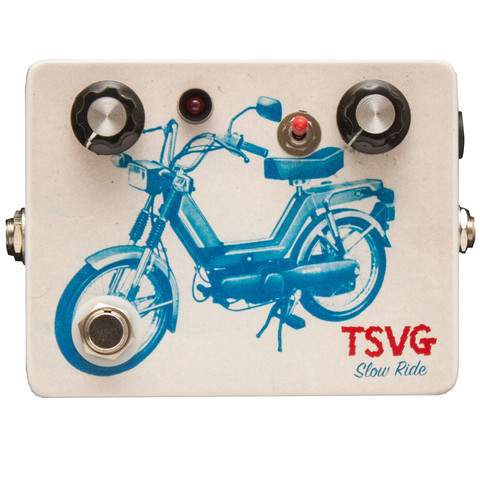 Posted on 09/10/2014 4:12 PM by Elevation Boutiques