Tuesday, 16 June 2015
Fairfield Circuitry


As one of our top selling brands Fairfield Circuitry continues to impress. Each time we plug in a Fairfield pedal we find new sounds to explore. In these meticulously built machines we are inspired to write riffs based on the tones and noise we are receiving. We can't say enough good things about Fairfield Circuitry!
If you are not aware of these fantastic pedals it's time to learn. There is an option for every player.
The Randy's Revenge has been deemed the best ring modulator on the planet.
The Meet Maude Delay overtakes you with delay, compression and modulation.
The Four Eyes is a crossover fuzz with a frequency control that will keep you mesmerized for days.
The Accountant gives you what you uneed from subtle to full-on squashed compression.
The Unpleasant Surprise an experimental Fuzz gate reminisce about the time you got your shoulder caught in the reciprocating saw while this unit destroys your slick jazz lines.
The Barbershop is a versatile overdrive that will treat your pickups with the respect they deserve. In return, they'll thank you with some of them sweet tones.
The Operator!? is just your typical passive feedback loop perfect for the experimentalist in all of us

Posted on 06/16/2015 12:50 PM by Elevation Boutiques

Friday, 12 June 2015
Epigaze Audio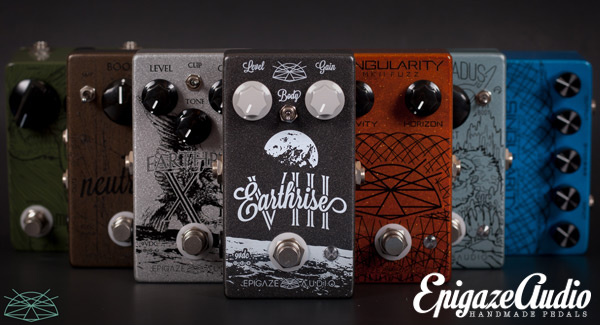 Elevation Boutiques is always searching for manufacturers that are passionate about building great gear and being the best they can possibly be. We have found that in Epigaze Audio, a boutique pedal building somewhat new to the scene. Epigaze first caught our attention with the Custom Shop Singularity MKll Fuzz, a fuzz with 3 transistors that can be tailored to the users liking. Epigaze is continuously dreaming up new and fasinating pedals that sound and look unique and should be used for maximum rocking.
Epigaze Audio started in 2013 with a love for simplicity, rock and roll, and all things cosmic. Their approach is to produce pedals and effects that rise from the ashes of timeless style and sound, simple controls, and extreme attention to appearance and branding. Epigaze only makes the products they love, and strive to produce the best Rock N'FN' Roll Machines possible. Every Epigaze Audio product starts with a vision from the Universe and everything about the artwork and the name tell a story.
Keep this line on your radar and if you would like to become an official dealer let us know. If you are already a dealer then you know how awesome they are and this email kindly reminded you.
If you are a guitarist who likes to purchase Rock N Roll machines start asking your local guitar store for Epigaze and get to rocking already!
Click here for detailed info on Epigaze Audio
To become a dealer Click Here or email brandon@elevationboutiques.com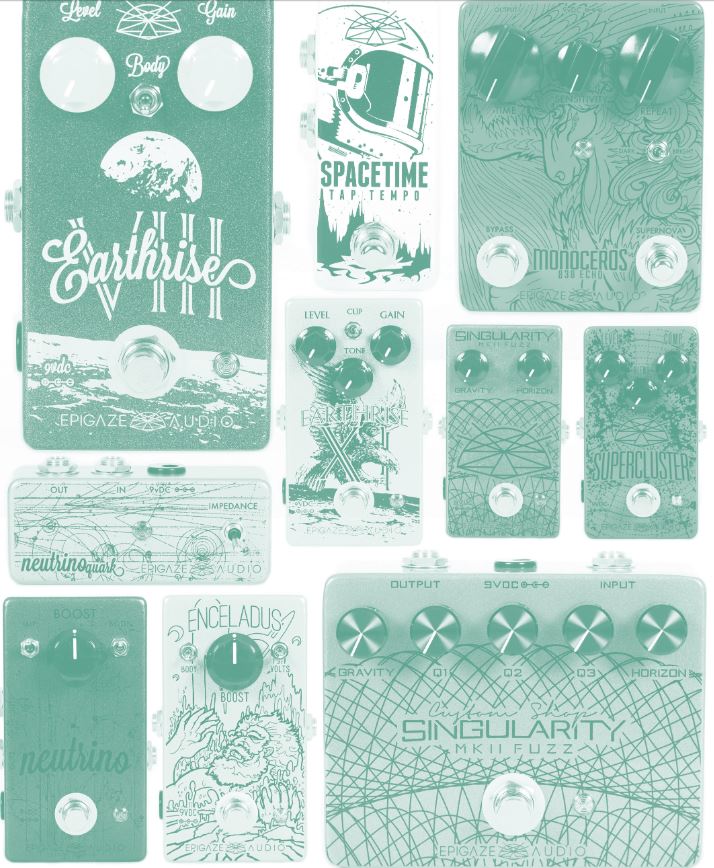 Posted on 06/12/2015 4:49 PM by Elevation Boutiques

Monday, 8 June 2015
Pettyjohn Electronics - Pettydrive


After over a year of booming success with their Pre Drive, Pettyjohn Electronics has released info on their second studio grade stomp box! The Pettydrive will be available through Pettyjohn Electronics dealers at the end of June. 
Click here to become a Pettyjohn Electronics Dealer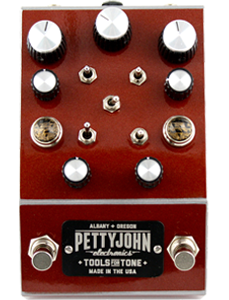 ---
The PettyDrive is a studio-grade dual-channel analog overdrive pedal engineered to deliver the powerful tone and dynamic feel of boutique tube amps pushed to the edge of breakup. Each of the two fully independent channels are uniquely voiced to compliment each other and provide a wide range of sounds that range from thick, saturated American iron and growl to harmonically-rich British-like chime. Only the highest possible quality audiophile components are used to ensure the lowest noise, years of reliability and the most articulate tone possible. The PettyDrive is a serious Tool for Tone, built for the modern working guitarist in mind with a balance of advanced tone shaping features, general ease-of-use and tone that truly inspires.
---
Features: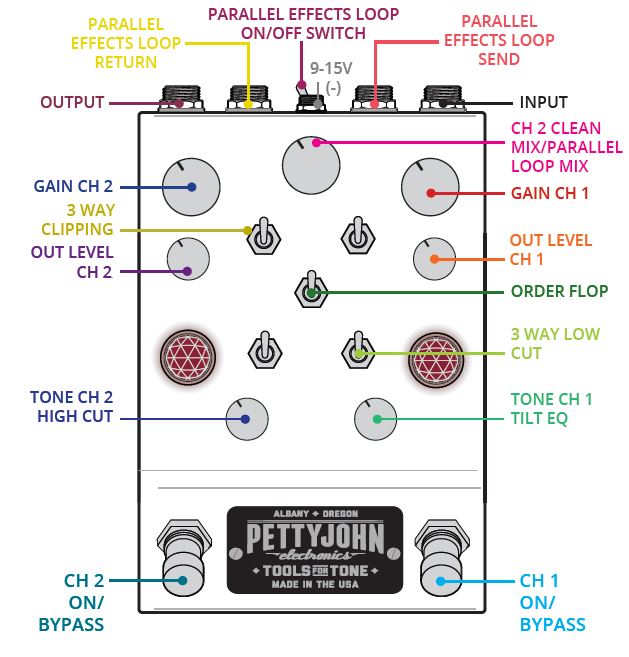 - Two Fully Independent, Stackable Overdrive Circuits
- Channel 1/2 Order Flip
- Unique Parallel Effects Loop on Channel 2 for New Pedal Combinations
- Simple, Easily Accessible, Powerful Tone Shaping Controls
- Available with Standard or Deluxe Chip Sets
- Built with Highest Possible Quality, Audiophile Components for Excellent

Reliability and Performance
- Symmetrical Control Layout
- Always-On Studio Grade Input Buffer for Zero-Loss Bypassed Tone
- Internal True-Bypass Switching
- Internal Charge Pump for Extra High Headroom
- Easily Powered by Standard Pedal Power 9v-15v DC (-)
- Current Draw: 100 mA
- Cool Red Jewel Light Indicators
- Made in the USA
Channel 1: Chime Drive
- A unique preamp circuit that can be configured as a Boost or Low Gain Drive
- Tilt EQ tone knob with Orange Drop Filter Caps for Sweet Tone Shaping
- 3-Way Clipping/Headroom Mini-Toggle
- 3-Way Low Cut Mini-Toggle
- Use Independently or Stack with Channel 2

Channel 2: Iron Drive
- Low to Medium Gain Overdrive voiced for Thick, Smoothly Saturated Tone
- Clean Mix Knob for Enhanced Feel and Dynamics
- Parallel Effects Loop for Combining Other Pedals in Totally New Ways!!
- 3-Way Clipping Mini-Toggle gives access to Asymmetrical Silicone, LED and
MOSFET clipping sections, Chosen for Their Unique Tonal Qualities.
- 3-Way Low Cut Mini-Toggle
- High-Cut Tone Knob for Taming Harsh High Frequencies
---
---
Click here to become a Pettyjohn Electronics Dealer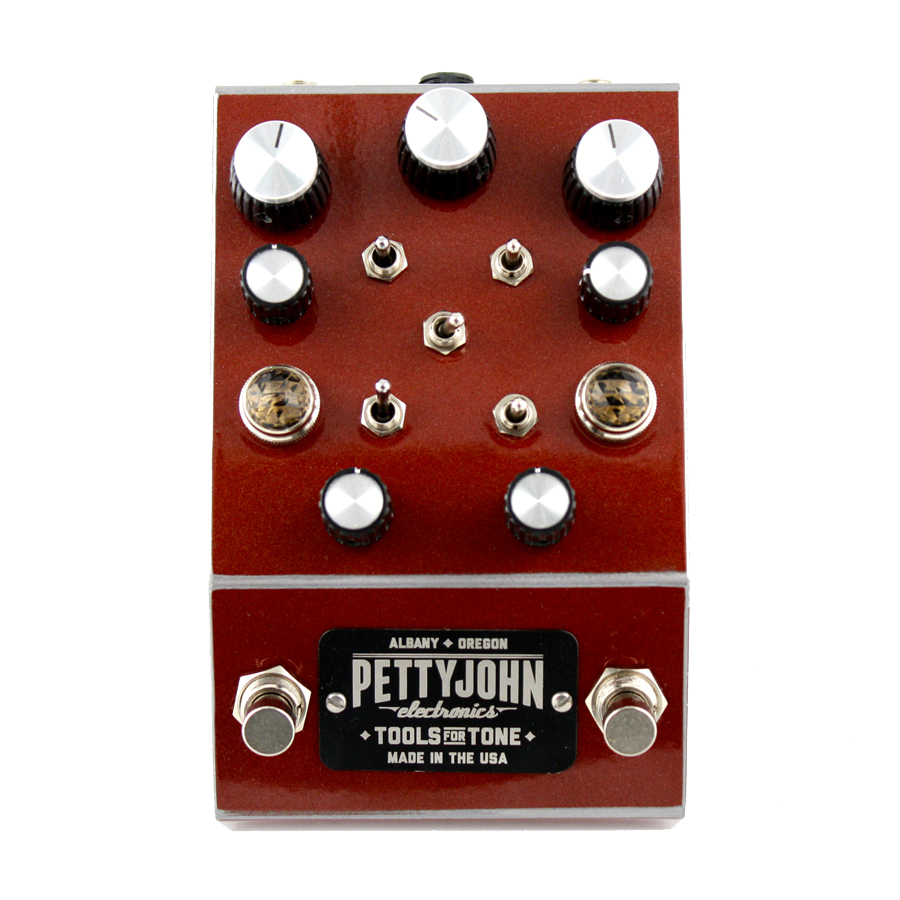 Posted on 06/08/2015 12:00 PM by Elevation Boutiques