Monday, 29 August 2016
Pettyjohn Electronics | Pettydrive V2

Pettyjohn Electronics has been wowing us with their tone machines since the introduction of the Pre-Drive in 2014. The Pre-Drive set the stage for the second release, The Pettydrive. The Pettydrive was a game changer with more dirt, more grit and grime. Then Pettyjohn thought, why not spilt the Pettydrive in half with the relases of the Iron and Chime then sew it all back together with some extra love. Now, Pettyjohn gives us the Pettydrive Version 2. It's big, yes, but it is BAD. I don't see how you would need additional overdrives if this is on your board but the quest for the perfect OD is apparently never going to end so what do I know?! I do know that this thing kicks and no one will say you need additional OD. Let's get down to the details of this thing...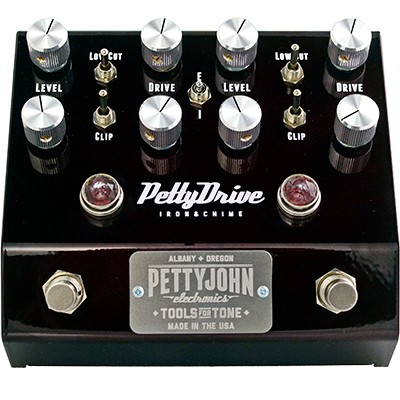 The PettyDrive V2 is a serious Tool for Tone, engineered to deliver the powerful tone and dynamic feel of boutique tube amps pushed to the edge of breakup.  Each of the two fully independent channels are uniquely voiced to compliment each other and provide a wide range of sounds that range from thick, saturated American IRON to harmonically-rich, sweet British-like CHIME. All of the updates introduced in the Foundry Series IRON and CHIME are now updated in the PettyDrive Version 2.

Main Features:
Wider Tonal Range

Improved, Lower Noise

Increased Internal Headroom

Improved Power Section for 9-18V operation, 100mA

NEW Master True Bypass switching

NEW External Insert for a vast array of routing options

NEW Custom Box - NEW Control Labels

Top shelf Audiophile parts for true Studio-Grade Performance in a Pedal

Extra JRC4558 chip included with IRON side for additional tonal options

High quality PCB mounted Pots and Switches for improved durability

Handmade in Oregon, USA
The Insert Loop
The PettyDrive V2 is equipped with an insert effects loop. To engage the loop via the send and receive 1/4 inch jacks on the rear of the pedal, move the center mini toggle up into the "E" position. In "E" mode this engages the "External" effects insert loop which can be used for a variety of custom routing options! This loop cuts directly in-between the CHIME and IRON sides and allows for routing options such as inserting other effects between the two sides, using each side in a programmable true-bypass looper or even swapping the order of the effects!  When you do not need the loop, move the center mini-toggle to the "I" position to keep the routing internal. Note: the pedal will not engage if the "E" is selected and the loop is not in use.

Posted on 08/29/2016 12:14 PM by Elevation Boutiques