Wednesday, 26 July 2017

Every release from Spaceman Effects is highly anticipated. I am often approached by delaers and Spaceman fans asking if I know what the next release will be. Even when I tell them that I find out when they find out they like to put their guesses in anyway. Delay? Mercury III version 2? Re-release of the Sputnik Fuzz? I can honestly say no one has ever guessed Spaceman would do a phaser but they have now! And it is amazing!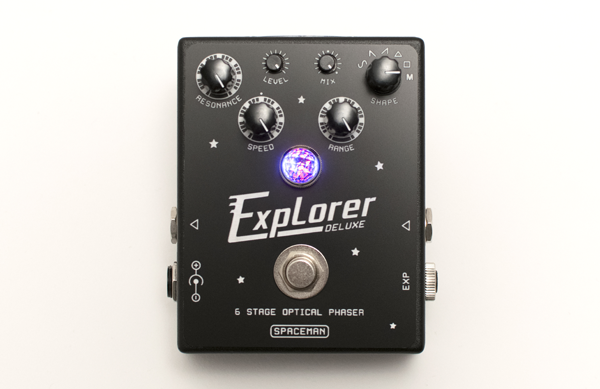 Named after the first satellite put into orbit by the United States in 1958, the Explorer Deluxe is the first phaser put into orbit by Spaceman.  Just like its satellite namesake, this phaser also features an onboard cosmic ray detector.
      The Explorer Deluxe is an optical, photocell-based phaser design, featuring six sweeping stages.  From your favorite vintage tones, to strange experimental sounds; the unique control set provides an incredible range of phase tones, with an easy-to-use layout.  The Explorer Deluxe is our most feature-packed pedal ever, and is truly a deluxe phaser.
      We start with a Level control, so you can always dial in the perfect volume for your phase tone.  The Mix control is one our favorites, as it gives you the ability to blend-in additional dry signal for a pleasant, subtle phasing effect.  This control also has a secondary function: pitch modulation when set to 100% wet.
      The Speed control is a wide-range control, which allows for both extremely slow, and extremely fast modulation.  Resonance dials-in resonant feedback, which allows for those over-the-top phase tones we all know and love.  Range offers unique control over the low-frequency extension of the phasing.  At its lower settings, only the higher frequencies are phased – useful for dialing in vibrato and rotary speaker tones.  Turning up the Range control stretches the phaser's reach into very low frequencies; which is especially great for slow, deep phasing.
      Five wave shapes are available via the Shape rotary switch.  Sine, Triangle, Square, Saw-Up and Saw-Down.  The sixth position on this control, the Manual setting, disconnects the LFO and freezes the phase sweep.  Using the Speed control, you can then control the position of the sweep manually, for unique tone-shaping possibilities.  Under the jewel lamp are two indicators: Red for LFO monitoring; and Blue to indicate that the pedal is engaged.  We've included an internal switch to turn off LFO monitoring if desired.
      Saving the best for last, the Explorer Deluxe is the first Spaceman pedal to include an Expression pedal input.  When using the five LFO wave shapes, the expression input controls the speed of the LFO.  In manual mode, the expression input controls the manual sweep of the phaser.  This allows for very cool "wah-pedal" style phase sweeping, especially when combined with the Resonance control.
      The Explorer Deluxe includes internal pre-gain adjustment for overly hot instruments, and can be run at up to 24v DC for even more clean headroom if desired (9v DC standard operation).  This pedal does not include battery hookup.
      The Explorer Deluxe is completely hand-soldered and handmade in Portland Oregon to the highest degree of quality possible.  These are truly artisan-crafted tone devices, sparing no detail within or without.  The Explorer Deluxe utilizes true-bypass switching via the heaviest duty mechanical footswitch available, while your tone is transferred via quality open-frame Switchcraft jacks.  Open one up and you'll see an unparalleled display of craftsmanship; with immaculate hand-soldered PCB's, and detailed military-spec wiring.  On top of its cast aluminum enclosure sits a durable, engraved vinyl faceplate and indicator jewel.  This pedal is truly built to last a lifetime.
For more info on the Exlporer Deluxe Click Here
      Demo Video - Coming Soon

Posted on 07/26/2017 10:10 AM by Elevation Boutiques
Comments
No comments yet.