Thursday, 12 February 2015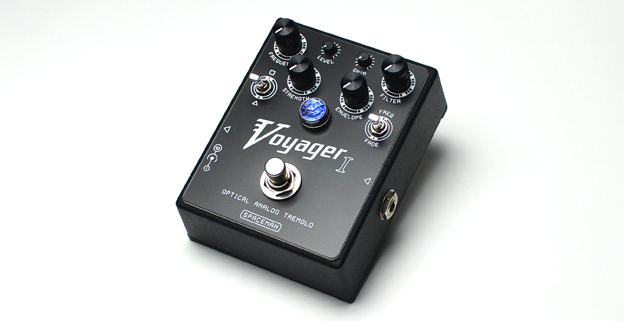 Spaceman Effects has released info on their most complex pedal to date, The Voyger 1 Optical Analog Tremolo. You may know Spaceman Effects for their amzingly built high end Fuzzez, Overdrives and Boosts. Seeing Spaceman branch out on something totally new is very exciting! There are a limited number of these 100% Tremolos available for pre-order on Spaceman's Website. Learn about this pedal and then go buy it. 
 
---
Voyager 1 Optical Analog Tremolo
     The LFO on the Voyager 1 offers a wide range of speed and depth, via the Frequency and Strength controls.  A switch to select between Triangle or Square wave shapes allows you to dial in a smooth or choppier feel.  The all analog, light-based (optical) design of the Voyager 1 gives it vintage tone and feel, while its control options set it apart from the old standards.
      The Voyager 1 features an optional envelope control section that changes parameters based on your playing dynamics.  Sensitivity is dialed to perfection with the Envelope control, and a selector switch chooses between two envelope control options.  The Freq setting allows the LFO speed to increase with louder dynamics and slow back down when playing with a lighter touch.  In the Fade position, a heavy hand will fade out the tremolo effect; with tremolo fading back in with light playing or sustained phrases.
      A Filter control shifts between sparkle and warmth, so you can add tonal flavor to your tremolo.  The Gain and Level controls not only allow you to adjust the output volume to your taste, but you can also dial in some analog overdrive to further shape your own unique and inspiring tremolo tone.  Through the clear indicator jewel shines an LFO rate indicator in addition to standard bypass indicator.
      The Voyager 1 is completely hand-soldered and handmade in Portland Oregon to the highest degree of quality possible.  These are truly artisan crafted tone devices, sparing no detail within or without.  The Voyager 1 utilizes true-bypass switching via the heaviest duty mechanical footswitch available, while your tone is transferred via quality open-frame jacks.  Open one up and you'll see an unparalleled display of craftsmanship; with immaculate hand-soldered stacked PCB's, detailed military-spec wiring, and custom heavy-duty battery connector.  On top of the USA-cast aluminum enclosure sits a durable, engraved vinyl faceplate and clear jewel indicator light.  This pedal is truly built to last a lifetime.


Posted on 02/12/2015 11:35 AM by Elevation Boutiques
Comments
No comments yet.