You are posting a comment about...
Bleep Labs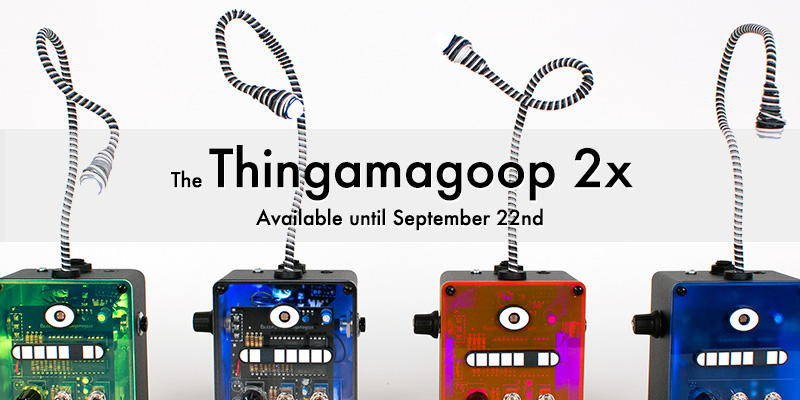 We are happy to announce that we are working with Bleep Labs. While this is not our usual shtick of announcing great guitar pedals it is some next level noise making machines for us to geek out on. Bleep Labs has been hand building amazing synth devices for years under the blazing sun of Austin, TX. 
If you are a guitar player and are wondering if these noisemakers work with a guitar like pedals do, well they don't. Their products are the instrument, which can in fact be plugged into pedals , making crazy sounds crazier. We like being innovative while using innovative products! 
The Bleep Labs line up is amazing but initially we are featuring the Thingamagoop 2x. Bleeps Labs has been making different versions of this little noise robot for 5 years and will soon be retiring it. This is your last chance to get your hands on this super fun, super creative hand held analog/digital synth controlled with light! 
Four different color options are available!
Check out this video for better clarity on what the Thingamagoop can do! 
The Thingamagoop 2 is a handmade, analog + digital synthesizer you control with light.
It features an analog voice that is controlled via photocell. This means that the more light, the higher the pitch.
This allows you to use any changing light source, such as the LEDacle coming out of the top of the Thingamagoop's head, to be used as a modulator.
An internal LFO and digital, Arduino controlled modulator add even more aural ridiculousness.
Kit
The kit is great for beginners with its detailed instructions and photos of each step. Advanced users can take advantage of the Arduino integration, control voltage in and out, or just bend it like crazy!
Arduino
The Thingamagoop 2 uses Arduino to control the analog VCO as well as the LEDacle. You don't need an Arduino board to use the Thingamagoop 2, only if you want to reprogram it to make your own ridiculous sounds! More info here.
CV
The Thingamagoop has a 1/8" jack on the top for control voltage out.
The Line Up